Conveying in an Oily Environment
A Wire Mesh Conveyor Solution for Shot Blast Fastener Processing
At Hoosier Conveyor Company, we take pride in our ability to design and integrate custom conveyor systems that are tailored to meet the unique needs of our clients.
The Application
In a recent project we were tasked with creating a custom solution for a client in the automotive industry. It involved moving shot blast fasteners of varying sizes from a tumbler, through an oil coating, into totes, onto a weight scale, and to packaging.
Industry: Automotive
Product: Shot Blast Fasteners in Varying Sizes
Environment: Industrial with Oils and other Chemicals Present

The Solution
When designing the solution, the environment was the key factor. The messy nature of the oils used to coat the fasteners would quickly deteriorate a standard belt, and cause jamming and issues with the functionality of a standard conveyor. Instead, we designed a custom wire mesh conveyor solution with drip trays and a return pump.
Solution: Custom Wire Mesh Conveyor System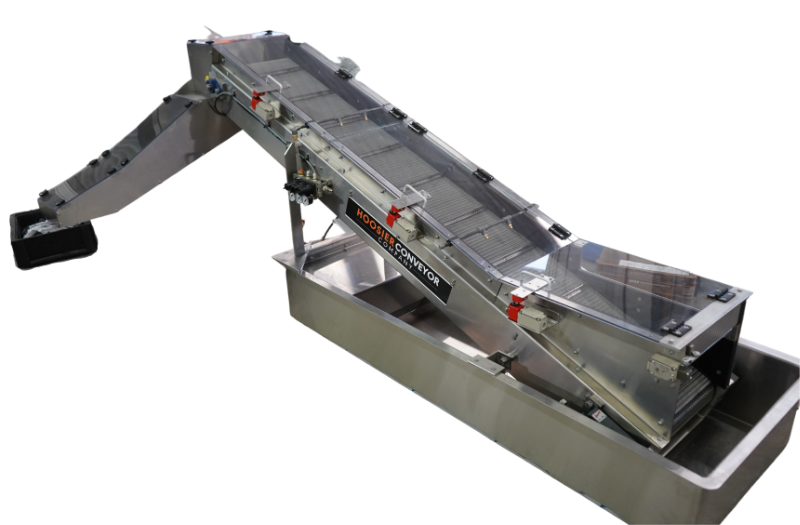 The Process & Details
Several factors were considered in the design process to ensure optimal performance and overall longevity of this system.
To prevent rust on the fasteners, they must be coated with oil prior to packaging. We designed the conveyor system to feed under an oiling bar and air dryer.

To keep the oil levels consistent and ensure that the fasteners were properly coated, we designed a collection tray below the conveyor system. A pump was then used to continually fill the spray bar, ensuring continuous flow and operation.

Once the fasteners were properly oiled and dried, they were fed down a chute into a tote.
The tote was then placed onto a weight scale for quality control.
The packages were then prepared for delivery.
The conveyor system was designed to operate at speeds of 20-30 feet per minute. The conveyor provided an automation solution to increase production while accommodating the environmental factors.
Do you have an automation application?
We have the experience and expertise to design custom conveyor systems that can handle a wide range of products and environments. Contact us today to learn more about our capabilities and how we can help improve your industrial processes.
February 27, 2023